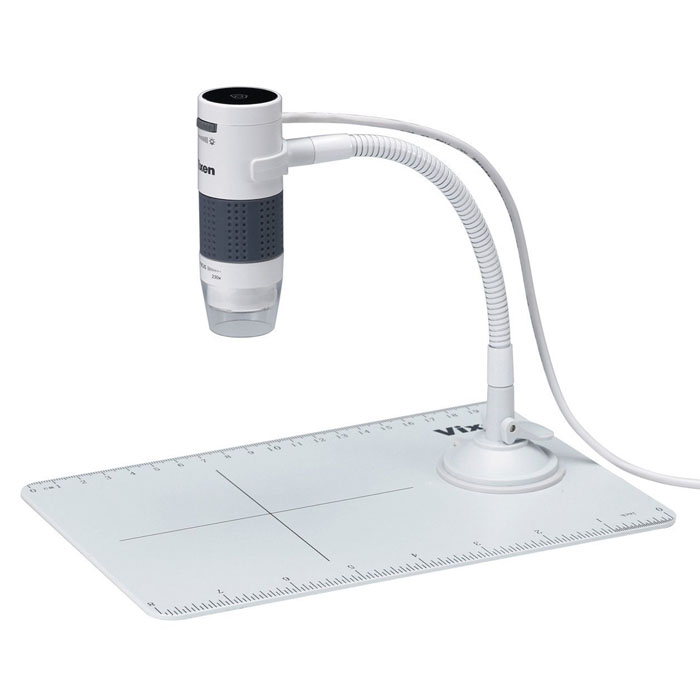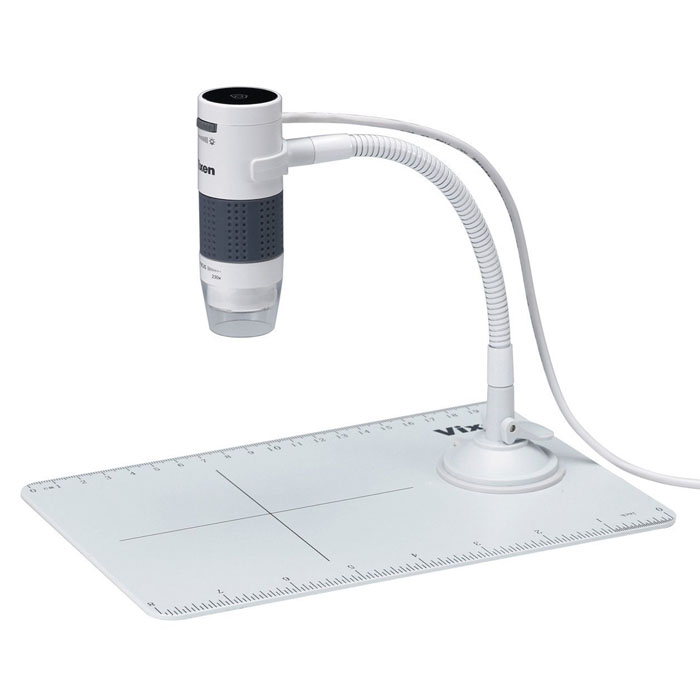 loading

Suggested retail price: Contact local dealer
JAN

4955295212613
Display and Store Microscopic World on your PC
USB digital microscope capable of observing the micro world from the personal computer screen at 60 times and 230 times magnification. Let's take a look at the microscopic world with your family and friends on the computer screen.
Vixen Microscope PC-230 Description
View on PC

The built-in 2 megapixel CMOS camera allows observing images on PC screen. Magnification is 60 times and 230 times (when using a 17 inch monitor). The detachable camera section permits use by handheld. USB 2.0 compatible cameras are equipped with dimmable LED lights, making it possible to observe in places with insufficient brightness. Since it is displayed on the PC screen, it can be observed at the same time, and it is best for learning purpose.Interval shooting function with shooting interval can be set back. The camera part is detachable, and shooting with hands is also possible.* It corresponds to photography (JPEG maximum 1600 x 1200 pxl), and movie shooting (AVI maximum 640 x 480 pxl). Scale sheet is included which can be used by placed on the stage.

Application Software Download

For Windows (Windows 10 / 8.1 / 8/7 / Vista)>>
xploview.exe

After launching the exe file by double clicking it, the installer will be launched, please install according to the guidance.

For Macintosh (MacOS 10.4.8 or higher)>>
xploview.dmg

After double-clicking on the dmg file, the Digital Viewer screen will be displayed. After dragging and dropping the "Digital Viewer.app" icon to the "Applications" folder, install it.Here for User Guidebook
Microscope PC-230
Magnifications

60x, 230x

Image Sensor

CMOS 2M Pixel

Shooting Range

5.6x4.2mm (60x)1.4x1.1mm (230x)

Illumination

White LED x 4-step dimmer

Still shooting

JPEG 1600x1200 (Max)

Movie

AVI 640x480 (Max)

Dimensions

Camera Section: Dia.30x86mmBase: 140x210x2mmCable: 120cm

Power supply

Supplied via USB

Overall dimensions

160x210x140mm

Weight

210g
PC Requirement
Compatible Operating System

WindowsR8.1/8/7/Vista/MacOS10.4.8 or above

CPU Speed

P4-1.8GHz or above, PowerPC G3/G4/G5 or Intel based

RAM

Windows 512MB or above, MacOSX 128MB or above

Hard Disk

800MB or above

USB2.0, Connector ANot usable with OS for Tablet PC
For availability of products, please contact our local dealers. The specifications are subject to change without notice.