Vixen Telescope VMC260L(WT) Optical Tube Assembly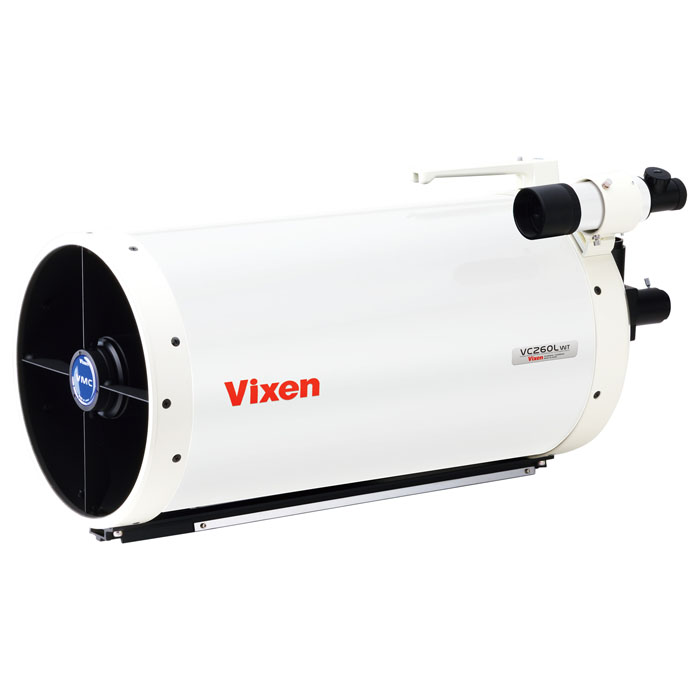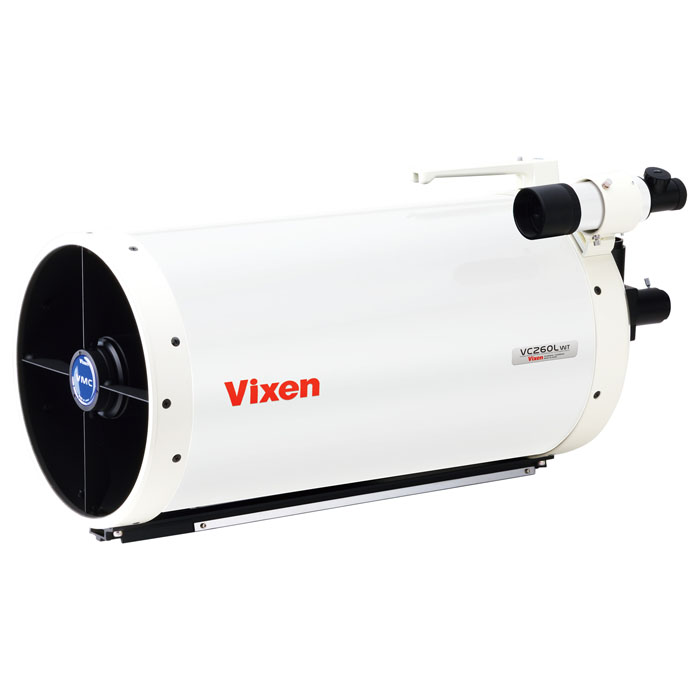 loading

Suggested retail price: Contact local dealer
JAN

4955295263028
For both planetary and deep sky observing and photographic applications.
Vixen's original Catadioptric design, consisting of two high reflectivity dielectric mirrors and a unique double menisus lens unit in front of the seconday mirror, virtually eliminates both spherical aberration and field curvature excellently and delivers high quality of images. With the large 260mm aperture, the VMC260L is a true all purpose telescope in your observing sessions.
Vixen Telescope VMC260L(WT) Optical Tube Assembly Description
Color of the optical tube has been changed from dark green to white.

Vixen's optical tubes has unified into fresh white color.

Vixen's original modified Maksutov Cassegrain.

The VMC features a combination of a miniscus lens unit in front of the secondary mirror and high-precision spherical mirrors that are shaped with extreme accuracy. Spherical aberration and curvature of field are corrected to a high level of optical performance for clear and sharp images. With its 260mm aperture dielectric coated mirror, the VMC260L collects enough light for serious visual and photographic applications and for both planetary and seep sky observing.
Optical Tube
Primary mirror

260mm effective aperture, precision spherical mirror, multicoated

Focal length (Focal ratio)

3,000mm (F11.5)

Resolving power / Limiting magnitude

0.45 arc seconds / 13.8

Light gathering power

1380×unaided eye

Dimensions / Weight

304mm dia. and 680mm long (720mm incl. protruded focus knob) / 12.1kg (Net 10kg)

Finder scope

7×50mm with dark-field illuminated reticle, 7 degrees field of view
Focuser
Adapter thread / Visual back

60mm and 42mmforT-ring / 50.8mm and 31.7mm push fit with flip mirror diagonal
Others
Accessories

Dovetail attachment rail, Metal carry handle, Saddle plate

Photography

Usable with Prime focus, Eyepiece projection and Afocal imaging

Solar observation

Not available
For availability of products, please contact our local dealers. The specifications are subject to change without notice.