Vixen Telescope AXD2-AX103S-P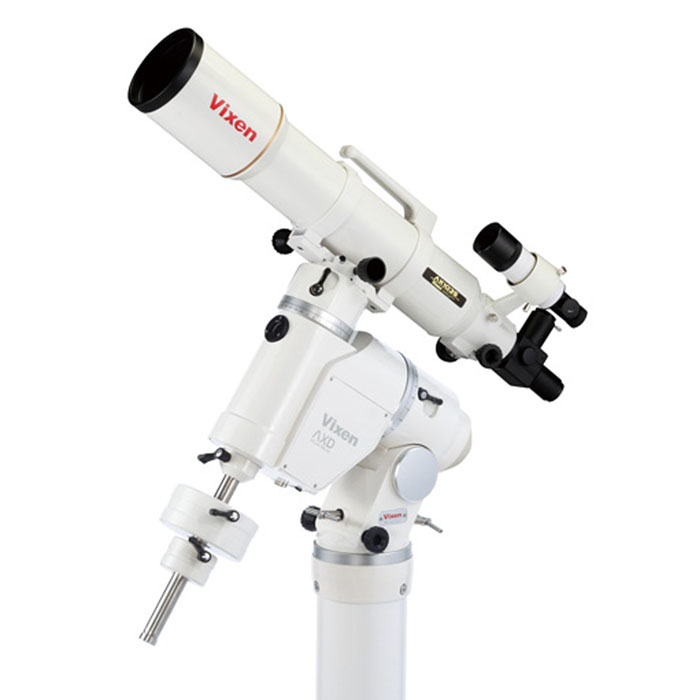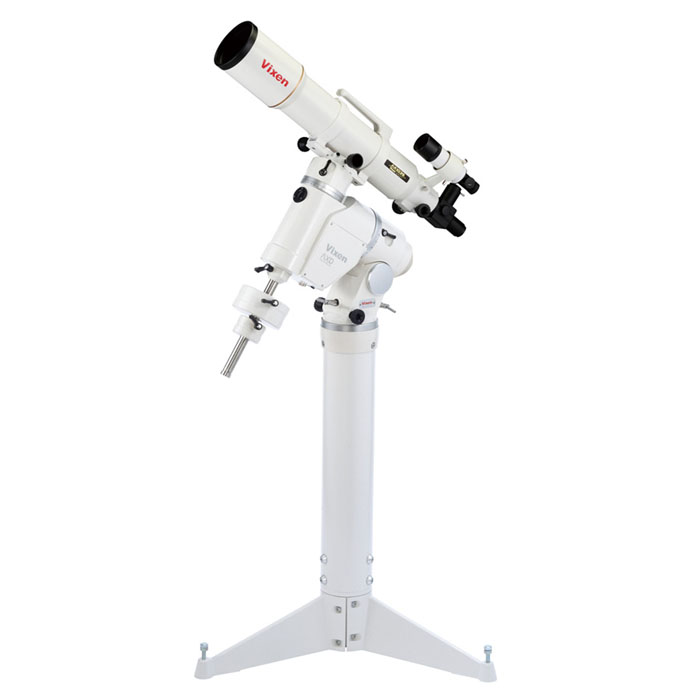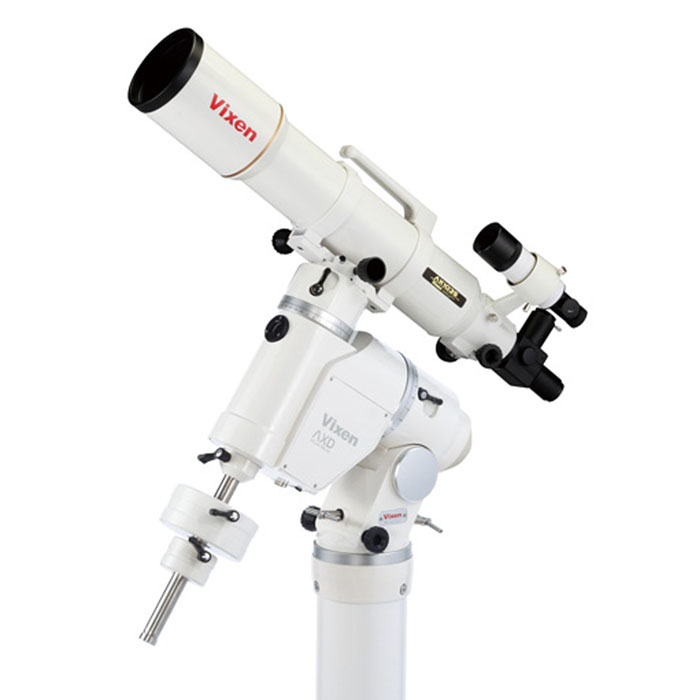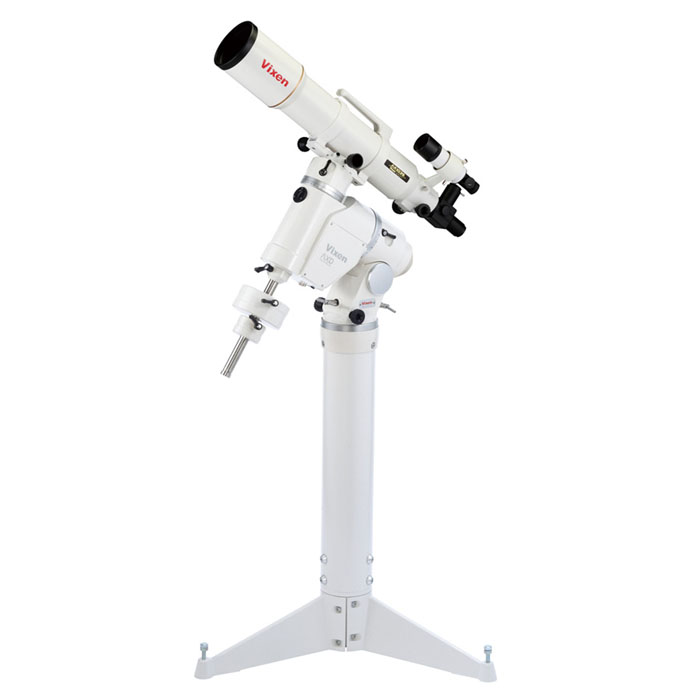 loading

Suggested retail price: Contact local dealer
JAN

4955295369430
Best for serious astrophotographers who demand a perfect imaging platform with user-friendly functions that allow for comfortable operation.
The quad element AX103S apochromatic system that features SD glass for uncompromising optical performance, comes mounted on a sophisticated AXD2 atop a steel pedestal.
Vixen Telescope AXD2-AX103S-P Description
Superior performance and ease of use.

Versatile functions and high level of accuracy demanded by advanced astrophotographer and ease of use appreciated by novice astronomer are merged into the AXD2 mount with STAR BOOK TEN controller.

AX103S optical tube assembly.

The advanced optical design produces crystal-clear, sharp and high contrast images with no trace of false color. The star images are as small as 20 microns at the edge of the imaging field. A premium AS coatings applied to each surface to the lenses enhances visible light transmission to 99.5% on any single surface (400nm - 700nm) and assure extremely high light transmission.

Vixen's flagship equatorial mount.

The AXD2 mount is designed for both superior performance and ease of use. The revolutionary advanced star chart go-to navigation controller STAR BOOK TEN is the best companion for your observing sessions.

Polar alignment scope.

A 6x20mm polar scope with illuminated reticle is provided with the AXD2 mount. With the help of a built-in Polaris position scale, it achieves an easy and accurate polar alighnment within 3 arc minutes in the northern hemisphere.

STAR BOOK TEN star chart go-to navigation controller.

The STAR BOOK TEN features intuitive 'Star-Chart Go-To' system with high definition color LCD display. The position of the telescope, the target and other useful information are displayed on the screen in detail. The night vision feature illuminates the whole screen in red, if applied, and will limit the brightness to the observer's eyes.
Mount
R.A slow motion

Worm and wheel gears with 270-tooth whole circle micro movement, 135mm in diameter, made of brass

Dec slow motion

Worm and wheel gears with 216-tooth whole circle micro movement, 108mm in diameter, made of brass

Worm shaft gear

14.5mm in diameter, made of brass

R.A axis

50mm in diameter, made of A7075 super aluminum-alloy

Dec. axis

50mm in diameter, made of A7075 super aluminum-alloy

Number of bearings

21 pieces
Counterweight bar

25mm in diameter, retractable

On-screen R.A display / Setting circle

10 arc minute increments / 1 arc minute increment with vernier

On-screen Dec display / Setting circle

2 degrees increments / 10 minutes (0.167 degrees) increments with vernier

Polar axis scope

Pre-installed 6X20mm finder scope, 8 degrees field of view, automatic turning off dark-field illuminator, 3 degrees or less setting accuracy, Battery: CR2032 (supplied for checking purpose), 3 stars alignment (Polaris, delta UMI and 51 Cep for northern hemisphere, or Sigma, Tau and Chi in Octantis for southern hemisphere) with precession correction until the year 2040.

Altitude adjustment

Latitude adjustable between 0 degree and 70 degrees (devided in 3 zones for high, middle and low latitude and adjustable +/- 15 degrees per zone), altitude scale in 2 degrees increments, Fine adjustments with two tangent screw bolts about 0.5 degrees per rotation

Azimuth adjustment

Fine adjustments with twin screw knobs about 1.0 degree per rotation, adjustable range about +/- 7 degrees

Motor drive

Pulse motors with micro-step motion control (400 pps)

Star chart go-to

Automatic go-to slewing and high precision tracking with STAR BOOK TEN, 800× of sidereal rate at maximum slewing speed

Photographic loading weight

30 kg (Maximum torque load: 750 kg/cm at a point of 25cm from the place where the R.A and Dec axes cross.

Controller port

D-sub9pin male connector

Power port

DC12V EIAJ RC5320A Calss4 (center plus), Electricity consumption between 0.45A and 2.5A (from 0.45A to 2.2A at 15kg loading weight)

Dimensions

457mm×465mm×152mm

Weight

25 kg (without counterweight)

Counterweights

1.5kg×1, 7kg×1
Optical tube assembly
Objective lens, effective aperture

103mm, triplet SD apochromatic, multicoated

Focal length (Focal ratio)

825mm (F8.0)

Resolving power / Limiting magnitude

1.13 arc seconds / 11.8

Light gathering power

217×unaided eye

Dimensions / Weight

115mm dia×762mm long (retractable to 670mm long), 6.4kg (Net 4.6kg)

Finder scope

7×50mm with dar-field illuminated reticle, 7 degrees field of view
Eyepiece part
Adapter threads / Visual back

60mm, 42mm for T-ring / 50.8mm and 31.7mm push fitwith flip mirror diagonal

Eyepiece (31.7mm)

Optional
Metal Pillar
Pillar Materials

Steel pillar and aluminum pedestal spider base

Size / Weight

881.5mm in height, 3.8mm in thickness, 139.8mm in diameter, set up circle 450mm in radius / 10.3kg
Others
Photography

Usable with Prime focus, Eyepiece projection and Afocal imaging

Solar observation

Available with Sun projection screen set B

Total weight

64.6kg
Configuration
AX103S Optical Tube Assembly
AXD2 Equatorial Mount
Dovetail-plate Mounting Block
AXD Half Pillar
AXD-P85DX Metal Pillar
AXD Counterweight 1.5kg
AXD Counterweight 7kg
For availability of products, please contact our local dealers. The specifications are subject to change without notice.