Vixen Telescope AXJ-AX103S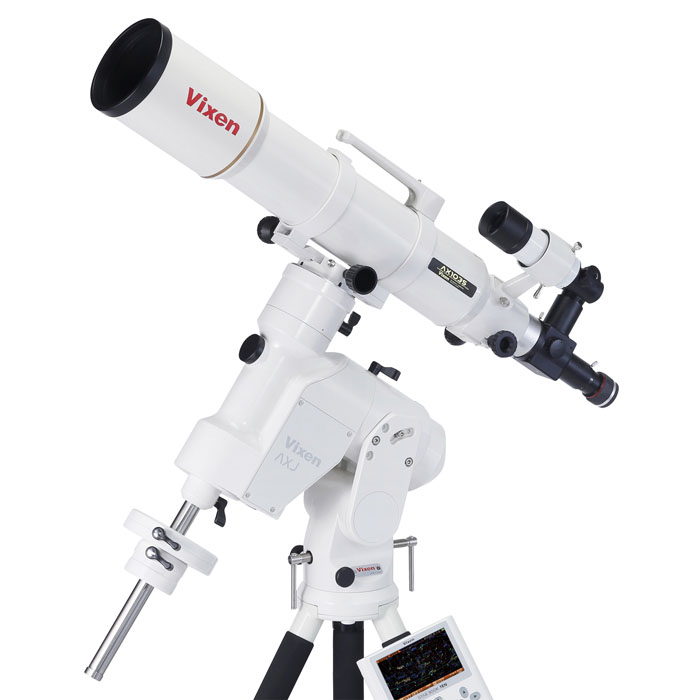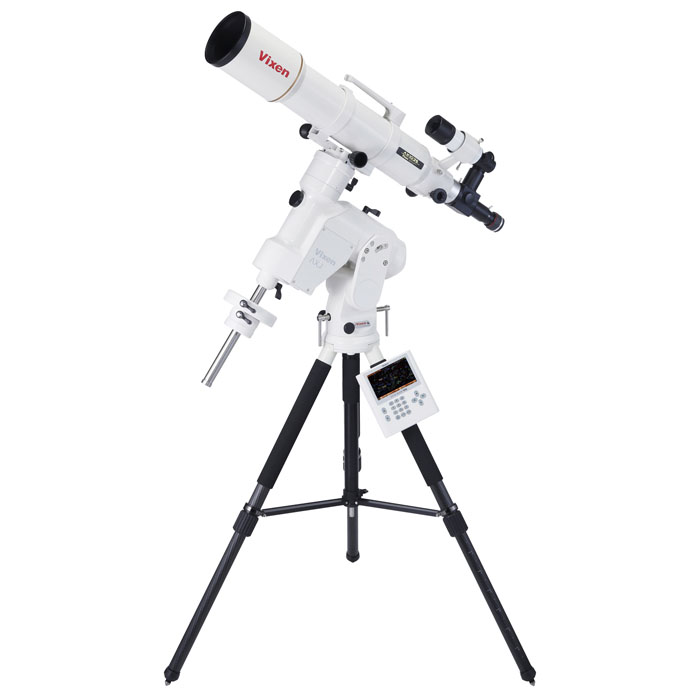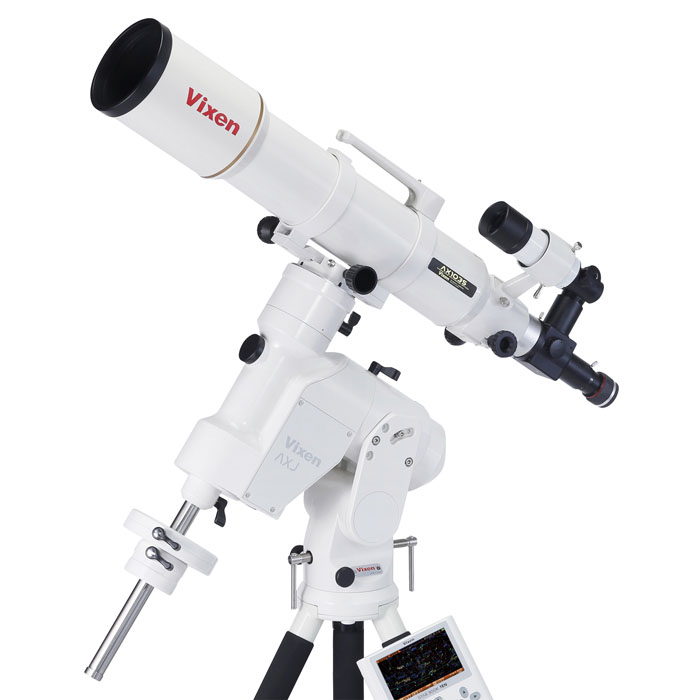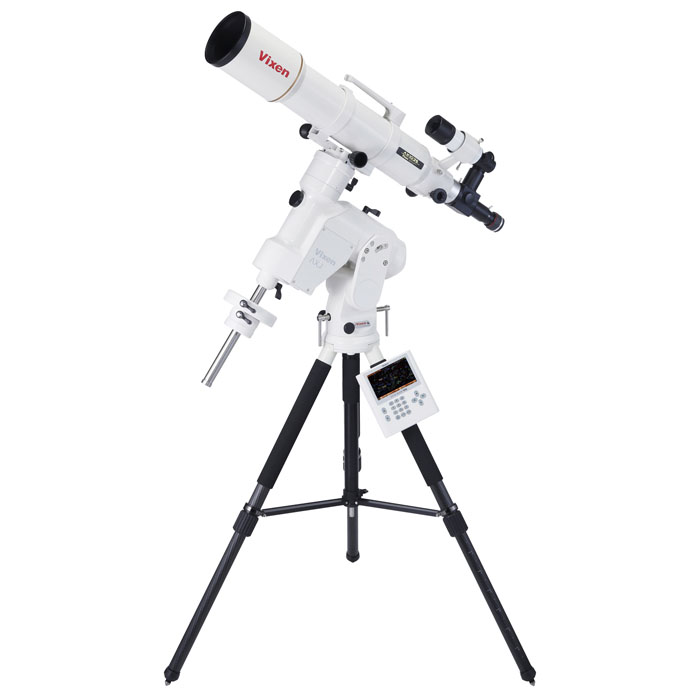 loading

Suggested retail price: Contact local dealer
JAN

4955295369560
Best for serious astrophotographers who demand a perfect imaging platform with user-friendly functions that allow for comfortable operation.
The AXJ-A103S package comes with the quad element AX103S apochromatic system that features SD glass for uncompromising optical performance, the pinnacle of this aperture class. The mount comes with a sturdy but lightweight ASG-CB90 tripod made of carbon fiber.
Vixen Telescope AXJ-AX103S Description
AX103S optical tube assembly.

The three element objective lens including the center SD glass produces crystal-clear, sharp and high contrast images with no trace of false color. Besides, the star images are as small as 20 microns at the edge of the imaging field with the built-in field corrector lens. A premium AS coatings applied to each surface to the lenses enhances visible light transmission to 99.5% on any single surface (400nm - 700nm) and assure extremely high light transmission.

AXJ equatorial mount.

The AXJ mount equipped with ultimate periodic correction VPEC provides precise tracking as accurate as +/- 4 arc seconds or less. The VPEC works automatically as you use the AXJ mount. The belt drive system reduces backlash dramatically and makes the motor noise quieter. A quick and stable motor response has been achieved. The AXJ mount carries a maximum loading weight of 22Kg.

STAR BOOK TEN star chart go-to navigation controller.

The STAR BOOK TEN features intuitive 'Star-Chart Go-To' system with high definition color LCD display. The position of the telescope, the target and other useful information are displayed on the screen in detail. The night vision feature illuminates the whole screen in red, if applied, and will limit the brightness to the observer's eyes.

Durable and lightweight carbon tripod.

The ASG CB90 is a compact and lightweight tripod which is constructed of durable carbon fiber legs. Also, the tripod head, leg extension part and leg brace have been reviewed completely to realize a highly stable tripod for the AXJ mount.

36956_0
Optical Tube
Objective lens, effective aperture

103mm, triplet SD apochromatic, multi-coated

Focal length (Focal raito)

825mm (F8.0)

Resolving power / Limiting magnitude

1.13 arc seconds / 11.8

Light gathering power

217x unaided eye

size / Weight

115mm dia x 762mm long (Retractable to 670mm long) / 6.4 kg (Net 4.6 kg)

Finder scope

7x50mm with illuminated reticle, 7 degrees real field of view
Focuser
Adapter threads / Visual back

60mm, 42mm for T-ring / 50.8mm and 31.7mm push fit (with Flip mirror)

Eyepiece

SLV20mm (41X, 73' field of view), SLV5mm (165X, 18' field of view)
Tripod
Leg type, material

Two-section carbon fiber legs extendable, unfoldable by one touch

Size / Weight

Adjustable from 545mm to 900mm in length, from 510mm to 815mm in height, set up space from 340mm to 520mm in radius / 3.4kg
Others
Photography

Usable with Prime focus, Eyepiece projection and Afocal imaging

Solar observation

Available with Sun projection screen set B
Others
Photography

Usable with Prime focus, Eyepiece projection and Afocal imaging

Solar observation

Available with Sun projection screen set B

Total weight

55.3kg
Accessories
AXD Counterweight 3.5kg x 1
AXD Counterweight 1.5kg x 1
Dovetail-plate mounting block
Configuration
AXJ Equatorial Mount
AX103S Optical Tube Assemby
SXG-CB90 Tripod
For availability of products, please contact our local dealers. The specifications are subject to change without notice.