Vixen Telescope Corrector PH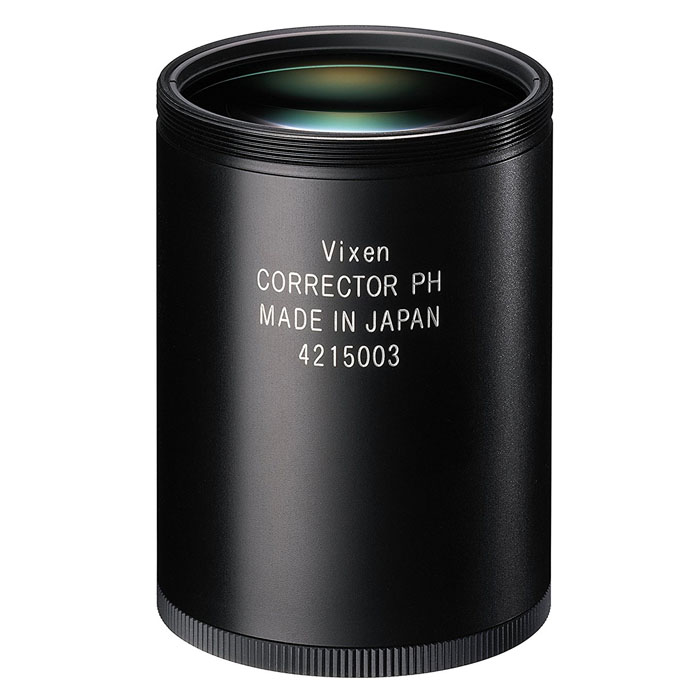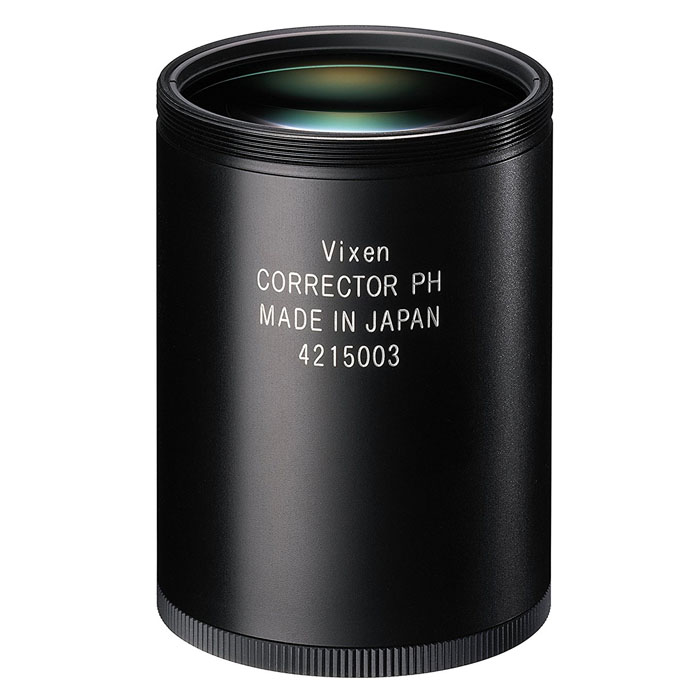 loading

Suggested retail price: Contact local dealer
JAN

4955295372379
Professional Astrophotography without Chromatic Aberration
The Vixen Coma Corrector is designed to eliminate coma aberration that easily occurs in the parabolic mirror of reflective telescope, making it possible to take sharp astrophotographs even the edge part.
Vixen Telescope Corrector PH Description
Vixen Telescope Corrector PH Feature

A Wynne type 3-element in 3-group design. Corrects coma aberration from parabalic mirrow surfaces. Minimize occurrence of spherical aberration.

A broad 44mm diameter circle, which covers a 36mm x 24mm full frame DSLR, and delivers sharp images over the entire imaging field.

A large 50mm aperture lens allows for ample edge of field illumination.

The same anti-reflective AS coatings, which are used in Vixen's high end VSD 100f/3.8 astrograph, are used to take advantage of 99.9%. In order to take advantage of the characteristics, we suggest you use Wide Photo Adapter 60 and Light Baffle Hood together.

Excellent Compatibility with R200SS Telescope

Applicable to all Vixen R200SS telescope. Old type R200SS telescope can also be renewed to f/3.8 high speed astrograph too. With bright edge R200SS telescope, by correcting aberration from parabolic mirror surfaces, the corrector delivers bright sharp pinpoint star images to the edge of the broad imaging circle.

Flange Figure

Components Guide Chart

Spot Diagram Shows the characteristics
Corrector PH
Magnification

0.95x

Focal Length

R200SS 800mm (f/4)→760mm (f/3.8)

Coatings

AS Coatings (Per Side Maximum 99.9% Light Transmission)

Lens Configuration

Wynne Type 3-element in 3-group

Image Circle

44mm (covers 36mm x 24mm full frame DSLR)

Screw Thread

M56, P=0.75mm

Applicable Filter

52mm

Applicable Telescope

R200SS

Visual Observation

O (uses with 31.7mm eyepiece and eyepiece adapter together)

Size

φ56 x Length 78mm

Weight

175g

Country of Origin

Japan
For availability of products, please contact our local dealers. The specifications are subject to change without notice.