Vixen Telescope AP-SM Equatorial Mount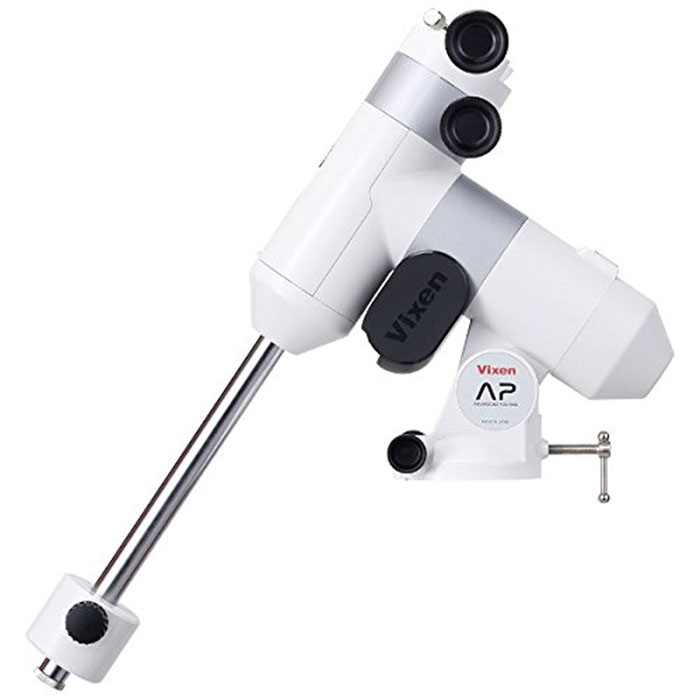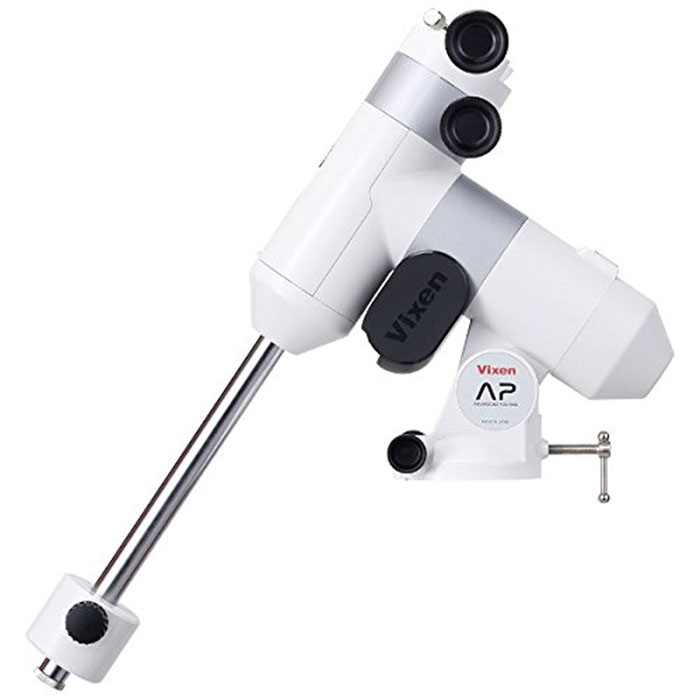 loading

Suggested retail price: Contact local dealer
JAN

4955295399734
Equatorial mount from beginners to experienced observers
The Advanced Polaris equatorial mount is ideally suited for beginners who want to become familiar with equatorial mount or experienced observers who want a simple grab and go mount. The AP mount securely supports your telescope optical tube for comfortable observing. With its friction control system, the mount can be quickly moved to your target object. A wide selection of optional accessories are available for the AP mount to meet your observation needs.
Vixen Telescope AP-SM Equatorial Mount Description
R.A. Motor modules and STAR BOOK ONE set

The AP-SM equatorial mount is supplied with the R.A. motor module and STAR BOOK ONE set (main motor of the AP equatorial mount for tracking celestial object) which includes STAR BOOK ONE controller. R.A. motor module and STAR BOOK ONE set is an integral part of the AP system. Your own system is created based on the R.A. motor module and STAR BOOK ONE set by adding other moudles.

Stylish design

The new stylish and smart design removes a difficult image on astronomical telescopes. Together with just 3.6kg lightweight body (without counterweight), you can easily handle full-scale astronomical telescopes. As the four AA batteries for power supply is integrated inside the body and adoptin of internal electrical contacts eliminates successfully external wiring which exposed to the outside in the past.

Friction control system

Simply point the target objects by moving the optical tube by hands. The friction control system allows you to manually point the telescope at the object without using knobs and clamps.

Simple polar alignment

The optional polar meter can be attached on the equatorial mount for simple polar alignment. Even beginners can quickly align polar axis. For precision alignment, the polar axis scope is usually used, but the polar meter can outperforms especially where Polaris is not visible.

Polar alignment scope PF-L

The polar alignment scope PF-L features an employment of three stars alignment system and built-in dark field illuminator to enable alignment while looking into the polar alignment scope. This illumination powers off automatically to prevent unnecessary consumption of power.Corresponding to the polar alignment scope PF-L, we delivers free applications "PFL Assist" for smartphone and tablet that support polar alignment by visuallizing a visible position in the constellation displayed.

Power supply system focusing on mobility and comfort

The motor module operates with 4 pieces of the AA batteries which are commercially available anywhere easily, not only corresponding to the alkaline battery but also economical rechargeable batteries (Ni-MH, Ni-Cd). For long term use, a commercially available USB external power supply such as USB mobile battery or USB AC adapter can be used connecting to the provided USB Micro-B termnial.

STAR BOOK ONE controller

The included STAR BOOK ONE controller is a lightweight, compact, and simple hand-held controller mainly focusing on the XY drive (R.A and DEC directions) control, while offering various tracking modes like sideral and solar rate, backlash compensation, external autoguider port, buil-in illuminator.
AP Mount
R.A. slow motion

Worm and wheel gears with 144-tooth dia. 73.5mm whole-circile movement

DEC slow motion

Worm and wheel gears with 144-tooth dia. 58.4mm whole-circile movement

Worm axis

R.A.: Dia. 11mm, DEC: Dia. 9.8mm, both made of brass

RA, DEC axis (Material)

Dia.59mm, friction-control (aluminum alloy)

Bearings

Ball-bearing, 7 pcs.

Counterweight bar

Dia. 20mm, Steel

Polar axis scope

Polar alignment scope PF-L (Optional)

Azimuth adjustment

Twin screw type with knob, range: 6.5°(1.4°/rotation)

Altitude adjustment

Tangent screw type with bolt, range* 0-65°(1.9°/rotation)

Drive

Electric drive by pulse motor

Maximum loading capacity

Approx. 6kg (Max. torque load 150kg-cm)

Controller terminal

D-SUB9PIN Male

Power supply

AA Battery x 4pcs (Allakine, Ni-MH, Ni-Cd), or USB compatible external power supply

Power consumption

DC5V 0.2-0.5A (1.0-2.5W)

Power duration time (Battery drive)

Approx. 4 hours (Alkaline battery, 6kg, 20℃)

Dimensions

274x310x96mm

Weight

3.9kg without battery and counterweight
For availability of products, please contact our local dealers. The specifications are subject to change without notice.