Program Update Information on ASCOM driver instructions for STAR BOOK TEN
With a new Vixen ASCOM driver to your PC, a wide variety of ASCOM application software is applicable to the STAR BOOK TEN.
About this update
A check box for "Use Last Mount Setting" is added to the Star Book Ten Driver Setup screen.

STAR BOOK TEN controller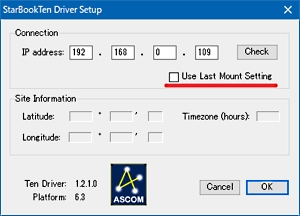 Ver.1.2.6.0(April 5, 2021)
When you choose the STAR BOOK TEN on an app for ASCOM, the check box for "Use Last Mount Setting" appears on the Star Book Ten Driver Setup screen. If you mark the check box, it will allow you to continue using your equatorial mount with the same settings you used during your last observing session.
Before starting work
Intermediary software downloaded and provided on ASCOM Standard for Astronomy (external website): Used in conjunction with "ASCOM platform" and various ASCOM compatible astronomical software (commercially available products).
This section explains the flow of installing necessary drivers on a PC. For details about how to use ASCOM compatible software, etc., please confirm with the instructions attached to the software.
Requirements
STAR BOOK TEN controller (ver. 4.10 or later)
PC (Computer) which is capable of LAN connection
LAN crossover cable
Power supply for STAR BOOK TEN (AC Adapter 12V 3A or Portable Power Supply SG1000SX, or equivalent.)
ASCOM driver for STAR BOOK TEN (obtained from this website)
ASCOM Platform 6SP1
ASCOM application software (sold commercially)
System Requirements for PC

OS : XP Home Edition、XP Professional、Vista、7 Home Edition、7 Professional、7 Ultimate、8、8Pro、8.1、8.1Pro、Microsoft Windows10
Web Browser : Internet Explorer version 5.0 or higher
CPU : PentiumRII 400MHz or better
RAM : 256 MB or more
LAN : 10BASE-T/100BASE-T
※
Depending on the OS used, necessary information may not be displayed properly. If this is the case, update your OS to the latest version using Windows Update.
※
Microsoft and Windows are registered trademarks of Microsoft Corporation in the US and some countries. All product and company names mentioned in the instructions are trademarks or registered trademarks of the respective companies.
Download and procedure
In order to operate with ASCOM compatible software, the program version of the STAR BOOK TEN controller must be updated to Ver. 4.10 or later. In the case of Ver. 3.50 or earlier, please update to the latest program.
The program version will be displayed after turning on the power of the STAR BOOK TEN program. You can check with "Star Book TEN" on the "Initial Setting" screen.
The ASCOM driver for STAR BOOK TEN is available from below:
ASCOM Driver
It is mandatory to install the ASCOM Platform software to your PC prior to the installation of the ASCOM driver for STAR BOOK TEN.
ASCOM Platform 6.5SP1
Choose "ASCOM Platform 6.5SP1" on the right of the top page and click "Download" to install. As of April 2021, ASCOM Platform 6.5SP1 is the latest version.
Execute the downloaded "ASCOM Platform 65.exe".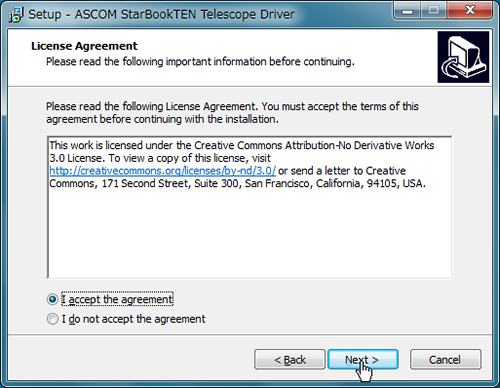 Execute the downloaded ASCOM driver for STAR BOOK TEN.
Check "I accept the agreement" and click on "Next>"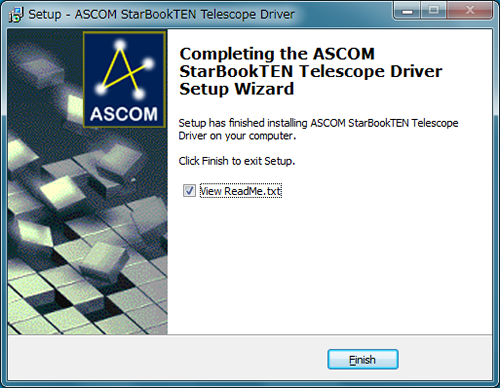 Installation Complete.
Install various ASCOM compatible software. If it is already installed, proceed to the next step. Please refer to the instruction manual included with the software about the installation method.
Connect the PC and the STAR BOOK TEN controller with a cross LAN cable and turn on the power of all the equipment to be used. Operation starts with ASCOM compatible software. For details on how to use the Equatorial Mount and operation procedures of the software, refer to the attached instruction manual.
If an error message appears during the installation, change the setting of the PC referring to the following (Administrator authority is required).
For Windows 10

For Windows 8
Update History
If you perform the latest update, all the events will be improved.
Update Start Date
Update Contents
Ver.1.2.0.0(March 15, 2017)

The STAR BOOK TEN is now available with ASCOM Platform 63.
If previous version of the driver is installed in your STAR BOOK TEN, uninstall it in advance to use the latest version.

Ver.1.1.7.1(February 5, 2017)

The commands of SideOfOier are available partially.
With this update, the commands of SideOf Pier that are used for controlling an observatory dome become available partially.

Ver.1.1.7.0(March 25, 2016)

For AstroArts' software "StellaShot", it corresponded to "fine movement" operation.In addition, you can set fine adjustment speed setting (high speed ? low speed) in 9 steps.